By: Sydney Redmon
Fall has officially arrived here in Kentucky meaning Halloween is just around the corner. Whether you are looking for a ghostly night out, some skin-crawling experiences, or a little creative family fun downtown Lexington won't disappoint with these five spooky attractions that are sure to give you goosebumps!
The Scarefest Horror and Paranormal Convention 2021
Celebrating its 13th anniversary, Scarefest Horror and Paranormal Convention return to the Central Bank Center this October with a lineup that will give a thrill to just about any fan of the supernatural! The event is sure to be a Halloween hit with special guests from beloved horror genre media such as Ghost Adventures, Destination Truth, The Walking Dead, and more. These stars are scheduled to make appearances alongside opportunities to attend panels, workshops, and celebrity photos ops.
If celebs and panels aren't your thing, you can spend your time walking the convention floor, checking out the array of vendors, and catching sight of attractions like the 1967 Chevy Impala from the CW show Supernatural and the original Mystery Machine from Scooby-Doo!
Worried about having to leave the kids at home? Don't be! Kids under 12 get in free and are invited to participate in the kid's costume contest and other trick-or-treating activities on Sunday of the convention.
The convention will open Friday, October 22 and run through Sunday, October 24th.
For more information and ticket details, click here.
Transylvania University's PumpkinMania
No Halloween is complete without pumpkin carving and Jack-O-Lanterns, making Transylvania University's PumpkinMania a can't-miss event this fall! Back in person after being altered for safety during the pandemic, this community carving and display festival looks promising for multiple nights of festive fun!
The fun kicks off on Sunday, October 24th with the carving of the pumpkins, provided by Cleav's Family Market in collaboration with the Black Soil organization, and continues on October 26th with trick-or-treating activities for the whole family.
But the festivities don't end there! From October 26th through the end of Halloween come and see the real star of the show, all of the carved Jack-O-Lanterns lit and displayed on the steps of the Old Morrison Building at Transylvania. A truly spooky sight to ring in Halloween night!
For more information, click here.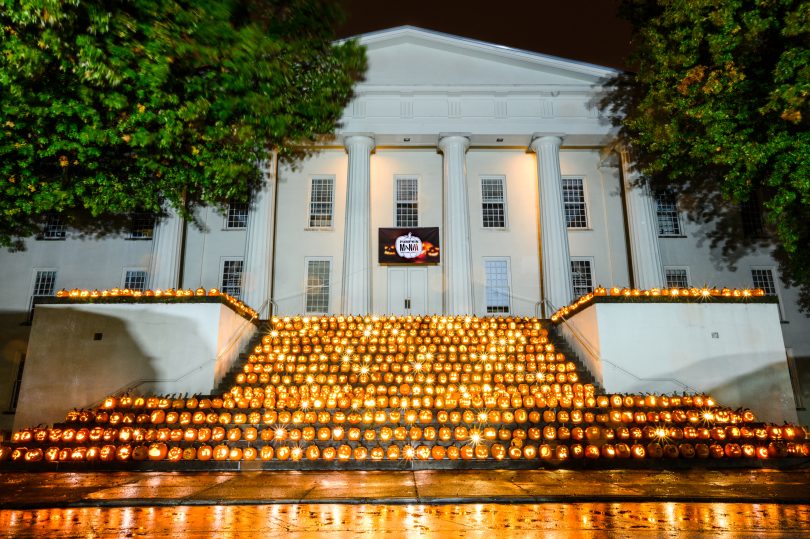 Fright Nights Kentucky
Haunted houses are a staple in October and downtown Lexington has recently acquired its own, Fright Nights Kentucky! This Halloween attraction leads you through the terrifying lab of Dr. Doom as you try to uncover the dark secrets that lay within the twisted nest of horror.
This attraction is not for the faint of heart (or children under 13), but if you're feeling the call of a truly frightening experience that will tickle your fight or flight response this is the place for you! The attraction runs every Friday and Saturday in October from 7 p.m. to midnight.
Tickets are $22 and must be purchased on location with only a limited number of tickets available per night, so make sure to arrive early!
For more information, click here.
4th Annual Halloween Bar Crawl
Do you ever miss the feeling of being a kid, getting all dressed up and going door to door trick-or-treating on Halloween? The 4th annual Halloween Bar Crawl is the event for you!
On October 30th, you can put on your most creative costume, grab some friends, and head to downtown Lexington to join a large-scale bar crawling experience complete with 2 free drinks, covered entry prices for all venues, an after-party, and a costume contest with a grand prize of $1,000! The event starts at 4 p.m. and runs until midnight.
After the event, you can stay downtown and visit one of our member bars in the area, including Centro, McCarthy's, Bluegrass Tavern, and more!
For more information about ticket pricing and planned activities, click here.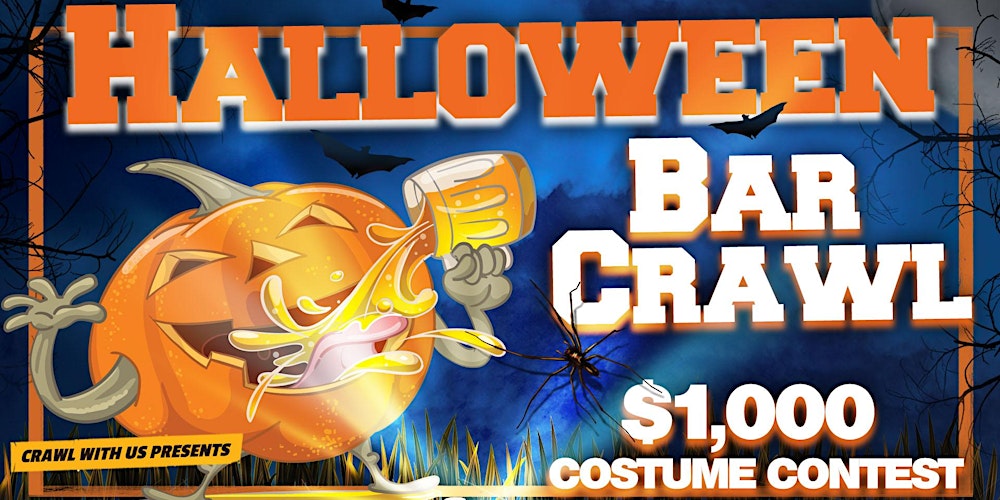 Halloween Fun and Films at LexLive
If you're looking for a more casual Halloween experience, LexLive is the place for you this October! Halloween films are a classic and laid-back way to celebrate the spooky season and at LexLive you and your friends can catch the latest horror flick before easing the chills down your spines with arcade games and bowling.
Do ghosts and ghouls make you work up an appetite? LexLive is home to many food and drink options including concessions and several bar options. If none of those options sound appealing, LexLive is within walking distance of some of downtown Lexington's most popular bars and eateries!
Some bone-chilling films currently showing at LexLive are Halloween Kills and Addams Family 2. For more information and showtimes, click here.
There is no shortage of ways to celebrate the countdown to Halloween in #downtownlex, so be sure not to miss the fun! Check out our website and social media pages for more information and to stay up to date with what's happening in downtown Lexington this fall!
Next
Back